Sa faci miscare de tipul fight fitness pe muzica drum and bass, in timp ce conducatorul clasei, instructorul, iti spune ce sa faci in versuri, mai exact o da pe rap, zicandu-ti ce sa faci… Cum suna?
Ca sa intelegi exact despre ce este vorba, trebuie sa participi la cel putin o clasa tinuta de Troy Dureh.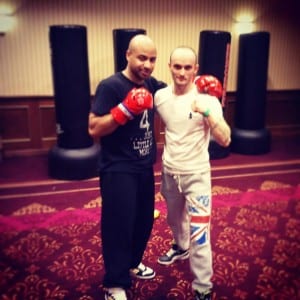 Tipul mi-a deschis apetitul pentru group fitness, dar un group fitness altfel, unul energic, nebun si pe gustul meu! M-a facut sa particip la doua clase consecutive, deci inseamna ca a reusit sa ma convinga :). Este un britanic de numai 36 de ani, care face treaba asta de 19 ani. Prima lui prezentare pe o scena a fost la 17 ani.
Imediat cum am ajuns acasa de la Conventia Internationala de Fitness, am luat www-ul la cautat dupa Troy Dureh. De ce? Pentru ca dupa ce am stat de vorba cu el am ramas fascinat de tot ce face. Iti dai seama ca a combinat hiphop/rap cu fitness?! Cam ce combinatie mai castigatoare de atat putea fi, ca sa ma atraga in mrejele ei?
M-a fascinat asa de tare incat ma bate gandul serios sa imi iau certificare de la el. Uite numai o mica parte:
In fine, tipul e tare pe nisa lui, o nisa destul de mare, dar pe mine m-a agatat cu partea de combat fitness :). Daca esti curios sa afli mai multe despre el, il poti urmari pe twitter sau facebook (pagina | profil). Iti recomand sa nu il ratezi daca ai ocazia sa il vezi la o prezentare.
INCREASE THE POWER! HOW MANY, HOW MANY-MANY?!